Display Records 1 - 3 of 3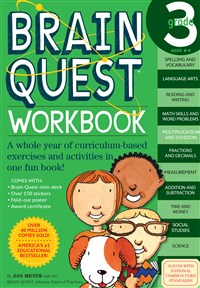 The ultimate 3rd-grade workbook, with hundreds of curriculum-based activities, exercises, and games in every subject!    It's fun to be smart! Loved by kids, teacher approved, and ...

It's fun to be smart with Brain Quest card decks, packed with curriculum-based questions.   Loved by kids and teacher approved, and featuring hundreds of curriculum-based ...
How many months are in one year? Does a perimeter go around a school yard or right through it? Which has more wheels: a bicycle or a tricycle? Plus operations, minute hands, money, number patterns, ...
Display Records 1 - 3 of 3