Niki Jabbour shows how your garden can help fight climate change

Posted: 2022/05/17 Source: The Globe and Mail

---

Niki Jabbour, author of The Year Round Vegetable Gardener, and Growing Under Cover was in the Globe and Mail this weekend, teaching Globe readers how their gardens can help fight climate change, by making their gardens peat-free and becoming converts to the no-dig movement.

"I stopped digging my gardens three years ago," she says, adding that her soil (which was sandy) is now darker, dense with organic matter and holds moisture much better. This has the addend benefits of preventing the release of carbon that was previously stored in the soil, and which is disrupted and released by digging.

Peat bogs, which are under serious threat around the globe, store vast amounts of carbon, and if gardeners can do their part to preserve them they will be making a serious reduction in their carbon footprints!

Click here to read the full article.



Best-selling author Niki Jabbour provides an essential, in-depth guide to creating controlled growing spaces for productive vegetable gardening, using row covers, shade cloth, low tunnels, cold ...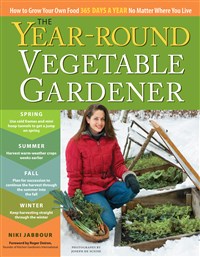 Stretch the gardening season with intensive planting techniques, cold-weather care tips, and vegetable varieties picked for flavor and growing success.